Korean Attempts to Thwart Japanfs Bid to Win World Heritage Status
for
Meiji Industrial Revolution Sites
---

Last Update: April 21, 2016
Moguro Fukuzo
Koreans are con artists who often tell lies. They forget about faith and trust when seeking their own interest. (Arai Hakuseki, b. 1657 - d. 1725, a scholar and counselor for Tokugawa Shogun in the Edo Period)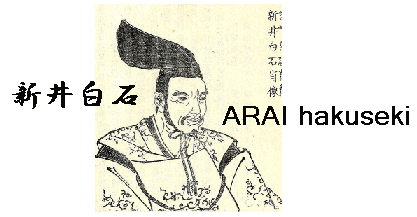 Koreans rejoice when they successfully blemish the reputation of Japan and the Japanese. They do not even hesitate to tell lies in order to achieve the shameless ends.

No other events than their recent attempt to thwart Japanfs bid to win UNESCO recognition on Meiji Industrial Revolution Facilities were more typically exemplified to demonstrate the distorted mean character of Koreans that was discovered by a Japanese scholar almost 300 years ago.
1. Chronology of Events
---
May 20, 2015
S. Korean President Park Geun-hye called UNESCO Director-General Irina Bokova, who was in Seoul to attend an education forum, to the Blue House and expressed S. Korean stance of opposing UNESCOfs approval on the sites, saying that it would create unnecessary feuds between nations.


---
June 12
S. Korean Foreign Minister Yun Byung-se visited Germany to oppose Japanfs campaign to secure UNESCO World Heritage Status for Meiji industrial revolution sites. FM Yun met with German Foreign Minister Frank-Walter Steinmeier to call for Germany to play an gactive role to prevent Japan from concealing the fact concerning hard labor at its industrial sites."


---
June 21
In less than 10 days after he met with German Foreign Minister to express S. Korean opposition to Japanfs attempt to attain World Heritage status for Meiji Industrial Revolution sites, S. Korean FM Yun Byung-se visited Tokyo, and on the eve of the 50th anniversary of normalization of relations between Japan and South Korea, the two nations agreed to cooperate on obtaining UNESCO World Heritage Designation for sites in their respective counties. Korea sought to gain World Heritage recognition on the historic district of Baekje Kingdom.


---
July 4
Japan gave consent to UNESCO's approval on Baekje Kingdom sites while S. Korea expressed opposition to the recognition on Meiji Industrial Revolution Sites on the ground that the compulsory recruitment was made at some of the sites.

S. Korea broke the June 21 promise of joint cooperation on obtaining UNESCO World Heritage Designation for sites in their respective counties. The UNESCO committee deliberations on the Meiji Industrial Revolution Sites were postponed to the next day.

After being forced to make concessions to secure S. Korean approval, Japan obtained the UNESCO World Heritage Designation on the Meiji Industrial Revolution Sites on July 5.

The concessions included the announcement of Japanese representatives that gKorean laborers were forced to work at the sites.h

The caption of the following TV says, "Korea betrayed immediately before approval"



---
July 6
Japanfs Chief Cabinet Secretary Yoshihide Suga declared that the wording gforced to workh expressed by the Japanese envoy in the UNESCO conference was used in the context of Requisition/Labor Conscription (for wartime public services), not forced labor in peacetime.

Note:
Labor Conscription on emergency (such as war, natural disasters, etc.) is completely legal and in compliance with international laws. As Korea was part of Imperial Japan during WWII, Labor Conscription Order was applied to Korea from September 1944 to the end of the war.

The number of the drafted workers from Korea was just 245 as most of the labor needs were satisfied by migratory workers from the poverty-stricken Korean Peninsula, who were lured by high salary.



| | |
| --- | --- |
| Foreign media such as gThe Telegraphh carried the news article titled such as gJapan forced labor sites received world heritage status.h Click the image to review the article. | |
2. Deception and Lies
---
The following is the brochure a Korean civic group distributed to the UNESCO committee members who had authorized power to decide whether Word Heritage Status should be granted to the Meiji Industrial Revolution Sites.

©Click to read.




A) Deception on the cover page

The brochure uses a photo of emaciated men for its cover page as if they were Korean workers conscripted for war-time labor in Japan. However, it was revealed later that they were Japanese workers forced to work at a road construction site under harsh conditions in Hokkaido. The local police raided the labor camp and a local newspaper reporter took the photo and carried the article on the September 9, 1926 edition of the Asahikawa Shimbun, as you see on the left-side of the following picture. The emaciated men were all Japanese workers and therefore, Korean conscripted labor had nothing to do with the incident.




B) Outright lies in description

The brochure states that:

1)

Koreans were forced into work in inhumane conditions at the facilities;

2)

In particular, coal mines in Hashima earned the notorious nickname of Hell Pits because children were sent to work underground shafts for coal, one of which even reaches 1,000 meters below sea level;

3)

Ata shipyard and an airport in Nagasaki alone, over 10,000 wartime forced laborers were killed and injured including those by the atomic bombing, and many survivors still suffer from health problems directly related to their labor;

4)

A total of 57,000 Koreans were conscripted for forced labor at these 7 facilities;

5)

According to a recent study conducted by South Koreafs Prime Ministerial Commission on Inspection into Damages from Forced Mobilization during the Anti-Japanese Independence Movement Period and Assistance for Victims of Forced Mobilization Overseas, the Koreans conscripted into forced labor reached 7,827,355.




However, the above-mentioned claims contain factual errors such as follows:


Most of Koreans worked in Japan during 1930s through 1945 were migrant workers attracted by high pay.

yTitlezSpecial Benefits for Korean Coal Miners

ySubtitlezThey feel as if they live in hotels

yPhoto CaptionzKorean coal miners enjoy a large bath-house

yDatezApril 21, 1940, Asahi Shimbun Osaka, Central Korea Edition

yAbstract of Articlez

In order to increase coal production, Nissan Mining Service Corporation, located in Mizumaki-cho, Onga County, Fukuoka Pref. employed many Korean coal miners. Many of them are honest migrant workers who came from drought-hit areas in South Korea. It appears that they are thrilled by dormitories the company had built for them as if they live in a hotel.
They say in the quiet dusk of the day in spring and after the day of work inside the underground shafts, those Korean coal miners enjoy bathing they can never think of in their hometowns while contemplating about their families they left beyond the Genkai Strait.

yTitlezKorean Coal Miners Get Surprising Amount of Earnings

ySubtitlezTarget of Commendation at Onga Mining Site

yPhoto CaptionzKorean coal miners enjoy a large bath-house

yDatezMay 28, 1940, Asahi Shimbun Osaka, South Korea Edition

yAbstract of Articlez

It is said that during March and April, those 400 miners had sent home the outstanding amount of 17,000 yen. By the end of this month, the amount of money they will send their home is expected to reach 25,000 yenc..

Note) Korean miners were able to send home 20 yen per person per month. It was the amount of pay a female factory worker such as silk weavers could earn each month and nearly 3 times worth of the pay given to a private soldier each month.

In an attempt to get into Japan, many Koreans even resorted to smuggling themselves as illegal immigrants. The newspaper articles shown below indicate that there were a large number of Koreans trying to get into Japan without permit even after the outbreak of Sino-Japanese War in 1937.

The Governor General of Korea issued a letter asking Korean workers in Japan to extend their labor contract in order to sustain the coal production level for war effort. The letter was issued on October 1, 1941 and it exists today.

The KBS news of Korea disclosed the letter as the evidence of forced labor. However the letter clearly indicates that Korean workers were working on contracts as the Governor General of Korea requests extension of contracts in the letter.

(Note) Today, Koreans are unable to read Kanji-letters as they abolished the use of Kanji-letters long time ago, because they consider that Japan pushed forward the use of Kanji-letters during the Annexation Years.




Simply, it is a factual error that Hashima Coal Mine was referred to as gHell Pits.h With modern buildings and high standard of living guaranteed by highly-paid jobs, Hashima Coal Mine was considered Workersf Paradise. Witness accounts reveal that Korean workers also enjoyed living there. Hashima Coal Mine even had brothels for Korean workers. Korean prostitutes worked there for Korean workers.

The brochure also claims that gchildren were sent to work underground shafts for coal.h However, all coal miners require physical strength and expert knowledge. It is simply useless to send children to mining shafts.

To the best of the author's knowledge,there is no shipyard called gAtah in Nagasaki Prefecture or elsewhere. There is no record that indicats as many as 10,000 Koreans were injured or killed in Nagasaki or elsewhere.

The author strongly believes that the story the brochure claims is total fabrication and yet another product of Korean victimhood fantasy invented for their incessant malicious smear campaign against Japan.
Authorfs Comment
---
The above incident of Korean gBetrayalh to our agreement has completely destroyed Japan - South Korea bilateral relationship. Do not underestimate Japanese peoplefs pride in our culture and history.

It seems South Korea had contemplated this dirty trick of trapping Japan from the very beginning of ICOMOSfs recommendation of enlisting Meiji Industrial Revolution Facilities as World Heritage Sites in early May. In the UNESCO conference held in Bonn on July 4, the Japanese envoy lost all bargaining chips when they gave approval to S. Koreafs Baekje Kingdom Sites in accordance with the previous agreement.
Under intense pressure to secure Korean consent, Japan was forced to make concessions of using the wording of gforced to workh in the closing statement.

THIS IS THE KONO STATEMENT ALL OVER AGAIN.

Statements made under such treachery and pressure are of course null and void.

We Japanese hate such dishonest manipulation. All people who use such deception techniques are our enemies.

The United States may have an idea to keep the three-party coalition comprised of the US, Japan and South Korea against North Korea and/or Chinese dictatorship. However, Japan and the Japanese strongly resent the idea. South Korea constantly brings up history issues in their malicious attempt to disgrace Japan. How can you keep a nation who are hostile to you and who betrays you at the 11th hour as your coalition partner? Japan cannot get along with South Korea as Koreans are habitual liars and not trustworthy.

The United States and people of free democracies should choose either Japan or South Korea as their partner in the Asia-Pacific Region.
---
| | |
| --- | --- |
| | To the top of this page |
| | Return to Home |