---

Last Update: March 23, 2015
Moguro Fukuzo
---
---
FALSE ACCUSATIONS
OF
COMFORT WOMEN

C O N T E N T S

Japanese Site (Reference Documents in the PDF format)
False Accusations of Nanking Massacre

Brief Summary
The U.S. media often describe: gHistorians estimate that as many as 20,000 so-called comfort women were forced into sexual slavery in the Imperial Japanese Armyfs brothels before and during World War Two.h

I wonder whether the writer has sufficient evidence to support such invective remarks. No one should make such slanderous remarks without sufficient supporting evidence.

In fact, I believe the recurring issue of the Comfort Women Sex Slavery is part of propaganda campaign to defame Japan perpetrated by Koreans. I believe that Comfort Women Sex Slavery is totally groundless and false allegation because of the following reasons:
Not a single evidence of coercing women into the comfort women system has ever surfaced or given by Korean Government till today.

Moreover, searches of the archives at the Japan Center for Asian Historical Records, which houses wartime orders from the government and military leaders, turned up nothing indicating that women were forcibly rounded up to work as comfort women. Only orders and directives found in the search were aimed to protect the rights of the women such as:

Army Memorandum 2197 issued on March 4, 1938, which explicitly prohibits recruiting methods that fraudulently employ the armyfs name or that can be classified as abduction, warning that those employing such methods would be punished.
Home Affairs Ministry Directive No.77 issued on February 18, 1938, stating that recruitment of comfort women must be in compliance with international law and prohibiting the enslavement or abduction of women.
Home Affairs Ministry Directive No.136 issued on November 8, 1938, which orders that only the woman whose age is 21-years-old or over and is already professionally engaged in the trade may be recruited as comfort woman. The directive also requires the approval of the womanfs family or relatives.

Newspaper recruiting ads for recruiting comfort women remain today.

These ads appeared in 1944 on the major newspaper gKeijo Shinbunh in Seoul by local private employment agencies.

Right
Place: ZZ Regiment Comfort Station
Age Limit: 18 or older but no older than 30
Day for Application: October 27, November 8
Counseling Meeting: November 8
Salary and Welfare: To be decided after interview
Number of Recruits Wanted: Dozens of them
Contact: Kou 2645 at Kyogi-cho 195 Korean Hotel (Mr. Kyo)


Left
Age limit: 17 or older but no older than 23
Place and Type of Work: Rear Regiment of ZZ, Comfort Woman
Monthly Salary: 300 yen or more (Loan up to 3,000 yen available in advance)
Job Interview: Applicant is required to appear 8:00 p.m. - 10:00 p.m. for interview.
IMAI Employment Agency

It was discovered that a comfort women gMun Okuchuh had deposited 26,245 yen at her Postal Savings Bank account by 1945. The average salary of the government officials (e.g. policeman) in Korea at that time was 40 to 50 yen per month and houses were sold at about 5,000 yen per unit. So, she earned and deposited the amount worth 5 houses out of her 2-years contract.

Actually, many women earned incomes far more than field officers or even generals. This is evidenced by "Japanese Prisoner of War Interrogation Report No. 49h prepared by gUnited States Office of War Information Psychological Warfare Team Attached to U.S. Army Forces India-Burma Theater APO 689h

The report says: gA ecomfort girlf is nothing more than a prostitute or professional camp followers attached to the Japanese Army for the benefit of soldiersc. This report however deals only with the Korean ecomfort girlsf recruited by the Japanese and attached to their Army in Burma.h

The report also says: gThey lived well because their food and material was not heavily rationed and they had plenty of money with which to purchase desired articles. They were able to buy cloth, shoes, cigarettes, and cosmetics to supplement the many gifts given to them by soldiers who had received gcomfort bagsh from home. c While in Burma, they amused themselves by participating in sports events with both officers and men, and attended picnics, entertainments, and social dinners. They had a phonograph and in the towns they were allowed to go shopping.h

Can you call it slavery?
| | |
| --- | --- |
| A Korean delusional image of rounding-up young women under violence | Actual comfort women following advancing Japanese Army |
| | |
Of cource, the Army needed to get involved in administration of brothels in the occupied territory, such as providing medical check-ups as the photo below shows, because spread of venereal diseases would cripple the Army's fighting capability.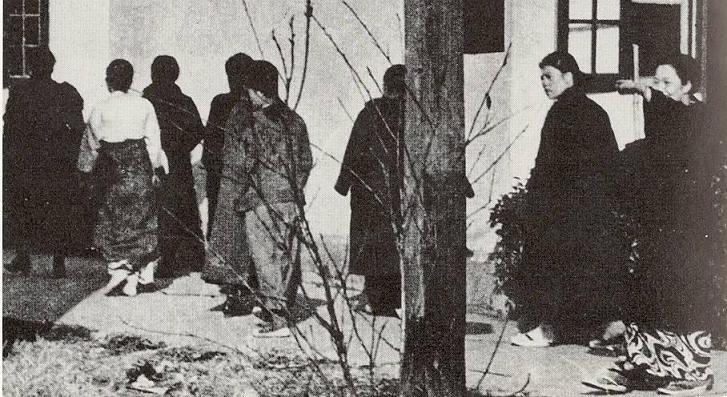 Three Questions on the Issue of the Comfort Women
Q1:Korean activists claim 20,000 to 200,000 women were abducted and forced to sexual services. How is it possible that such large number of women were kidnapped without any resistance? Where were Korean men?
Q2:Why do those Korean activists remain silent about the existence of Korean pimps, brokers, and parents of those girls, who sold them to brothel operators?
Q3:Japan and Korea signed a peace treaty in 1965. When signing the treaty, Japan paid a large amount of money (double the amount of the Korean government expenditure at that time) as government-to-government compensation, including all personal compensation to be paid to any Korean nationals, for Japan's annexation of Korea for 36 years. During the negotiation of the treaty. the Korean government did not mention about even a single word of "comfort women." However, from 1993 onwards, the Koreans keep demanding apologies and compensation for the comfort women. Why?
---
U.S. House of Representatives House Resolution 121
The Comfort Women Issue is a common sense vs. bias issue.

All military organizations, from the ancient Roman Army to today's modern U.S. Army, had many brothels nearby their camps because prostitution has been and still is necessary evil. Otherwise there may be rapes in your neighborhood! Porn and prostitution are better than rapes. If you disagree, you should go to a church to become a monk and never come out of it.

American sevicemen strolling through a "red light district" in South Korea

But why this man is so maniacal about bashing Japan using groundless rhetoric? It seems his motive is not based on justice but something else. Whatever his motive or personal end is, he is acting as a wedge driven between Japan and the United States.

| | |
| --- | --- |
| | Rep. Mike Honda pushed forward the U.S. Resolution 121, which stated Japan should formally acknowledge, apologize and accept historicall responsibility on the issue of the Comfort Women. |

Is it that you want to bash Japan, your staunch ally, because old women weep in your congress?

Kim Hak-soon, the first woman who made a public statement that she was forced to serve as a Comfort Woman, admitted she had been sold at the cost of 40 yen to a Kisaeng House, a traditional Korean school to train girls to be entertainers/prostitutes after filing a lawsuit in Japan. But it was not entirely her fault. She confessed that she was so alone and just wanted to meet her old friends. Lawyers and activists who use her low intelligence for their own ends are to blame.

I donft know exactly why Koreans are so bellicose and hostile toward us. I know Japan annexed Korea in the past. But as far as I know Japan made a huge investment during 40 years of the annexation, and by the end of WWII the population of Korea has doubled compared to that before annexation and Korea has become a modern nation. Korea was NOT a colony for Japan. Like Ireland was for England, Korea was part of Greater Japan. However, Koreans practically keep saying,gYou are sons and daughters of sinners. Apologize! Pay Compensation! Apologize! Pay Compensation! Apologize! Pay Compensation!h all the time.

| | |
| --- | --- |
| | A giant poster erected in Times Square of New York demanding gapologyh of Japan like German chancellor Willy Brandt had made gsilent apologyh before the Jewish Ghetto Monument. This angered many Japanese because despite the fact that Japan had formed Axis Power alliance with Nazi Germany in WWII, what our ancestors did has nothing to do with the mass-murder of the Jewish Ghetto. We considered this a shrewd manipulation to create an impression that the Comfort Women and the Jewish Ghetto are similar in nature. |
| | A memorial for comfort women built in the Palisades Park N.J. The brass plaque writes gIN MEMORY OF THE MORE THAN 200,000 WOMEN AND GIRLS WHO WERE ABDUCTED BY THE ARMED FORCES OF THE GOVERNMENT OF IMPERIAL JAPAN.h Although Japanese people cannot interfere with the decision of Americans, we are afraid such incorrect information spreads in the United States and one day will become de facto historical fact people take for granted. |

I feel strange similarities between the following two photos. One thing is clear. No one can stay cool in that group frenzy. Be careful on what they say. There are many inconsistencies in their testimonies. Their statement does not constitute "forced sex slavery" as you call it. Before you blindly believe anything, investigate!

| | |
| --- | --- |
| Comfort Women Protesters | North Korean Women crying for the death of Kim Jong Il |
| | |

"Sex slave" is a shocking phrase! The first rime I heard this phrase was when Mrs. Clinton used it. You do not throw such a shocking phrase at your friend without sufficient supporting evidences, do you? We Japanese will never ever tolerate such baseless defamation!!

Hi Hillary! I admire your wish to promote the welfare of women and children of the world. But if you think the comfort women should be referred to as genforced sex slaves,h tell me how Monica Lewinsky should be described. The U.S. Presidentfs enslaved what?

The YONHAP News, one of the most popular newspapers in South Korea, reported this is the photo of the comfort station served for the Japanese Army. But, wait a second, please. gOFF-LIMITh ? ? gKEEP OUTh ? ?
No! Never! Nada! This must be the so-called gMonkey Househ served the U.S. Army during the Korean War! The operator of the house must be a Korean. Comfort women must be Koreans, too.

Don't you think it is more useful and productive to consider the welfare of these girls, rather than you keep demanding apologies from Japan?
| | |
| --- | --- |
| A Korean girl waiting for her "customers" from inside a glass-made showcase | Present day korean comfort women protesting closing of brothels in September, 2011 |
| | |
---
| | |
| --- | --- |
| | Today, one in four prostitutes arrested in the U.S. are Koreans. |
Recommended Youtube Videos
| | |
| --- | --- |
| | Texas Daddy addresses at Glendale Council meeting on Oct.22, 2014. |
| | SCOTTSBORO GIRLS by Yujiro Taniyama - Trailer |
| | Panel Discussion on Comfort Women at Foreign Correspondents Club at Tokyo |
| | Michael Yon and Yujiro Taniyama on JB Interview |
---


F. Moguro, Yokohama Japan
---
| | |
| --- | --- |
| | To the top of this page |
| | Return to Home |